Services
What Do PEP Pastoral Consultants Provide?
On-site consultation related to the needs of each parish or group.
Resource materials and books to assist pastoral leaders in their ministry.
Parish Assessment and Renewal (PAR)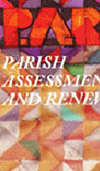 The Parish Assessment and Renewal (PAR) process is a unique blend of information gathering and future planning. PAR begins with six months of self-assessment, during which time the leadership collects information about the parish.
This self-assessment is followed by a two week on-site visit by the PEP Pastoral Consultant team. The focus of the two week visit is to access the strengths and needs of the parish through direct observation, personal interviews, telephone calls to parishioners and analysis of parish liturgies, programs and ministries.
At the conclusion of the two week parish visit, the PEP Pastoral Consultant team writes a report of what it has observed, as well as making recom-mendations for the future.  The report is presented to a gathering of the parish leadership.  From this information, the leaders fashion a plan for the future direction and renewal of the parish.
PAR also includes a three day follow-up visit by the PEP Pastoral Consultant team six months after the initial report in order to assist the parish during the implementation of the renewal.
Staff Development
Designed to provide a sacred safe environment for the staff to appreciate their growth, develop new skills and re-covenant themselves to each other and parish. Learn more »
On-Site Services
Training and workshops are available for parishes, dioceses, priests, staffs, pastoral councils and on-going leadership development. Learn more »