About PEP
Who Are the PEP Pastoral Consultants?
PEP Pastoral Consultants are resources to Catholic parishes, dioceses, religious communities, and pastoral ministries throughout the United States. In March 2013, the Parish Evaluation Project (PEP) celebrated 40 years. It is based in Milwaukee, Wisconsin, and is listed in the Official Catholic Directory as an organization affiliated with the United States Catholic Conference.
---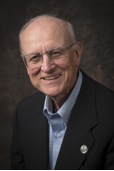 Thomas P. Sweetser, SJ is the founder and director of the Parish Evaluation Project. His articles have appeared in America, National Catholic Reporter, Commonweal, Chicago Studies, Today's Parish, Human Development, and church.
View the Jesuit Journeys article about Fr. Sweetser and the history of PEP »