A Thought on Outreach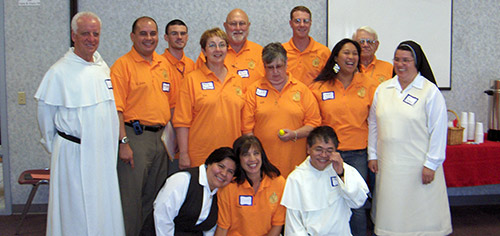 Outreach ministries cover all those people who are not regular members of the parish or who do not come to the weekend liturgies. The more successful parishes have a commission that oversees this important aspect of parish and gives it a focus and direction.
Some of the areas outreach covers include:
Pastoral care for those unable to get to church
Social services for those needing assistance
Peace and justice issues that require attention
Reaching out to inactive parishioners and the unchurched
Pastoral care is more than bringing communion to the sick and homebound. It includes responding to all areas of loss, hardship and bereavement. Some parishes use "Stephen's Ministry" as a way of responding to many areas of loss, including loss of a loved one, job, health or marriage. Another option is "Befriender Ministry" based at St. Thomas University in St. Paul, MN. Individual parishioners are trained to do one-on-one ministry to those experiencing loss and difficulties. They are given a person or a family to minister to and to stay with them as long as necessary. Those involved in this ministry meet together regularly to share experiences and give one another insight, encouragement and support.
There is a connection between social service – providing food, clothing and money to those in need – and social justice. As parishioners become involved in service projects they become exposed to the injustices associated with poverty, detention, hunger and homelessness. The next step is to plan a parish-wide response to these issues. The clergy and staff might begin an educational process through homilies and other presentations concerning the link between the gospels and social justice issues. Next, the parishioners are invited to share their thoughts and feelings about these issues. The parish could provide a forum for this discussion and plan ways for parishioner involvement. The parish might also link up with other churches and agencies in the area that have had some success in dealing with social justice issues.
As for reaching out to inactive Catholics, one approach would be to motivate the "pew people" to become evangelizers by sponsoring a "Welcome Home" liturgy once or twice a year. Everyone who comes regularly to church is asked to bring an inactive family member or friend to this liturgy. There could be a social following Mass, along with information about the parish and about issues that are often a concern to inactive Catholics and those not familiar with the Church. Gatherings for spouses of different faiths could be arranged to provide the occasion for them to talk about the advantages and drawbacks of families that have more than one religious heritage. For more ideas, see The Parish As Covenant (Thomas Sweetser, SJ, Sheed and Ward, 2001), pp. 135-142.  See also Keeping the Covenant (Thomas Sweetser, SJ, Crossroads, 2007), pp. 242-252.
A sample of PEP Newsletters related to Outreach:
Planting Seeds Of Conversation