One Day Retreat Experience for Staffs and Councils
PEP Newsletter
Ideas For Your Parish
____________________________________________
November, 2018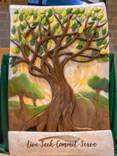 Parish Leadership Retreats
Pastors are stretched thin these days. If it is a large parish, they are pulled in many directions, as they cope with difficult issues, attend meetings and functions, and prepare for Masses and funerals. If they have more than one site, then relating with many different communities is also draining. Staff members are also overworked as they plan events, prepare meetings, deal with people and unexpected crises. "When will this merry-go-round stop," they cry. A different set of challenges face those serving on pastoral councils and parish leadership groups. The issues that dominate their meetings are often not related to anything spiritual. "We never seem to get past the nitty-gritty," they com-plain. A number of parishes, however, are discovering a spiritual oasis in the midst of their hectic pace. One example is St. Mary of the Woods in Chicago. Guided by a director, the pastor, staff, council and lay leaders recently participated in a day devoted to their spiritual growth and renewal.
Starting With the Pastor
Knowing how important personal prayer and reflection are in a busy schedule, the pastor freed up three hours on Thursday for himself. Following a short conversation with the director, he spent an hour in silence away from any distractions. After jotting down insights from his prayer, he took a long walk in an area where he would be less likely to run into people he knew. When the three hours were up, he reconnected with the director for a brief conversation and a refreshing dinner by way of conclusion.
Staff Reflection
On Friday, the entire staff gathered at 9 am for a day of personal and communal prayer lasting until 3:00 in the afternoon. At the beginning each person was asked to link up with a partner. After that, they were to find an inviting place for their own prayer. When they regrouped, the director led them through a guided meditation and sent them off for prayer time in their personal space. This was followed by a reflection on the dynamics of parish life: "gathering" and "sending." Most parishes do a good job at gathering people together for worship, community and formation, but not so many do well at sending people forth to spread the Good News, help those in need and work for justice. Staff members were asked, "If you were sent out, what would you do?" They wrote their ideas down individually and then shared their thoughts with their partner. These two joined with two others and the foursome came to a consensus about one concrete action that the staff might do. The second part of the day focused on the model of Church that Pope Francis encourages. This includes being open to change, risking new ways of operating and setting an example of going out to where the people are rather than waiting for them to come to the staff or parish.
Pastoral Council and Leaders
Saturday was a day of renewal for the leadership. Much was the same as what happened with the staff, but from a different perspective. The leaders are the ones who work in partnership with the pastor and staff. They are people of prayer and discernment, of faith and vision. By being "bearers of the dream" and "instigators of change," they follow in the footsteps of Pope Francis. They are called to a spirituality of parish leadership which includes time for personal prayer, being visible and recognized by parishioners, making it easy for people to join groups and volunteer, as well as shaping plans and actions in key areas of parish life. The council and leaders set an example of attending to the needs of others and encouraging the parishioners to do likewise.