Staff Development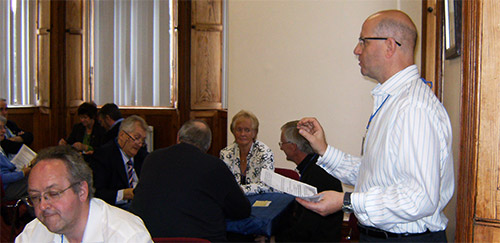 Purpose
To provide a sacred safe environment for the staff to appreciate their growth, develop new skills and re-covenant themselves to each other and parish.
Design
Facilitators will create a customized agenda from the staff members' responses to the following questions:
Potential: What could you be as a staff if there were nothing blocking you from reaching your potential?
Blocks: What keeps your staff from reaching your potential or gets in the way?
Plan: What are some practical beginning steps that could lead your staff toward your deeper potential? What skills are needed?
Staff Purpose
Who are we called to be?
Servant Leaders
Reflecting as individuals on God's presence, your talents and call to share inner wisdom on staff with integrity and confidence.
Covenanted Staffs
Reflecting as a staff on your spiritual commitment to each other through faith sharing and prayer.
Responsible Ministers
Negotiating staff tasks and job descriptions to enhance collaboration and reduce stressful workloads.
Collaborative Planners
Creating a staff mission statement, goals and action plans that flow from the parish plans.
Staff Partnership
How will we work together?
Cultivating Shared Wisdom
Providing a safe environment where individual feelings, needs, creativity and concerns are expressed through appropriate interactive skills.
Enhancing People Skills
Learning to increase trust through improved communication skills.
Providing Efficient Staff Meetings
Establishing guidelines for effective staff meetings.
Staff Processes
How will we get the job done?
Coordinating Volunteers
Learning Facilitation skills and effective methods for recruiting, training, supporting and evaluating volunteers.
Managing Conflicts
Experiencing conversion from habitual reactive behavior patterns to skillful responses.
Making Decisions
Releasing shared wisdom through simple reflective guidelines to discern appropriate decisions or solve staff/parish problems.
Guiding Transition/Change
Transforming times of staff transition and large parish changes into opportunities for growth.