Suggestions For Confession
PEP Newsletter
Ideas For Your Parish
______________________________________________________________________ April, 2023
The Rite of Reconciliation
In the ten years since Francis was elected Pope, many memorable images of him have become popular. One was during a Penance Service at the Vatican in which he was supposed be one of the priests hearing confessions. Instead, he went over to one of the other confessors, knelt down and professed his own sins. It was a humbling image to witness.
Many parishes offer a Penance Service during Lent. The ritual includes an entrance hymn, Scripture reading with a Psalm response, a Gospel selection, followed by a homily. After an Examination of Conscience said in common, each person then has an opportunity for individual confession.
An Option For Confession
Following the Second Vatican Council, reception of this sacrament has fallen off as people realized that they didn't need to go to confession before receiving Holy Communion. The brief confession-type rite at the start of every Mass – "May Almighty God have mercy on us, forgive us our sins and bring us to life everlasting" – took care of all but the most serious sins. Given that, a good number of people who attend Penance Services also go to a priest for the Rite of Reconciliation. Having been on the receiving end of these individual confessions, I have been edified and humbled by the depth of feeling manifested by the penitents. Two aspects of each confession is a "penance" suggested by the priest and the Act of Contrition said by the person before, during or after confession.
` First the penance. What used to be a typical penance after confession –Three Hail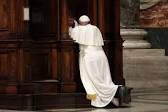 , three Our Fathers and three Glory Bes." – now has become quite varied. The priest might ask the penitent, "What do you think would be a good penance for you?" or he might offer an action or a prayer as a a positive response to the sins just confessed. My own approach is to ask, "Do you have a cell phone?" If so, I would ask the person to put into Google these four words – "Nothing is more practical. . ." What comes up on the phone is a prayer which I ask them to say at least once after receiving the sacrament. The prayer begins with:
Nothing is more practical than finding God,
that is, than falling in love in a quite absolute, final way.
What you are in love with, what seizes your imagination
will affect everything . . .
An Alternative Act of Contrition
When leading a Penance Service with Jane King at the Jesuit Retreat House in Oshkosh, WI a few years back, we came up with this variation to the customary form for contrition:
I am sorry for my sins and failures.
It is not what you had in mind for me.
I have chosen myself over You and others.
But I want to do better,
And You are here to help me.
Free me from my wants and fears,
And let me live and trust in You. Amen.
A woman who came to me recently for confession remarked, "I was waiting in line to come in here and I noticed that all those who came out of the confessional were beaming with joy and happiness." That's one of the many graces offered by God for those who make the choice to participate in the Rite of Reconciliation.