The Power of Poetry
PEP Newsletter
Ideas For Your Parish
_______________________________________________________________________ September, 2022
Touching the Spirit
There are many ways in which a parish can stir people's souls, either through music,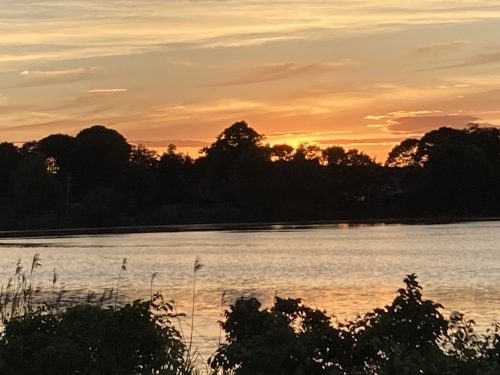 scripture readings. Preaching, presentations, outreach projects, community gatherings. One that is not often used is the reading of poetry. In June, 2021, I had the pleasure of directing a gifted poet in an eight-day individually guided retreat. Her name is Ashley Cleveland, a teacher at a charter school in Kansas City, MO. She shared with me this poem she had written earlier. She also took the picture of a sunset over Niles Pond at Eastern Point Retreat House near Gloucester, MA.
The Gift
Is it possible that my brokenness is to me.
truly beautiful to You – But I wish it wasn't for I'd find it.
That those parts of me hidden from simpler if You asked something
all others of me –
even myself if I'd a task to do, a method that guaranteed
are what You most wish to see I'd win You over.
embrace But I believe You promised I've
kiss softly already won –
as if they were delicate like eyelids though I don't remember competing,
rather than hard crossing the finish line to cheers
as a callous? and applause.
Can it be true that it is my weakness Yes. This is much more difficult
You want most – than earning Your love –
That my competence just gets in the way for You have found me desirable in
of surrender my ugliness
and humility capable in my ineptitude.
which You offer to me like And what do you ask in return?
precious jewels That I accept this acceptance
that which we covet this gift
rather than discard for lack of this affirmation –
appeal, inability to That every inch of me is divinely inspired,
dazzle? every moment sanctified,
Yes. This is what I think You've said and You are all –
Sufficient..